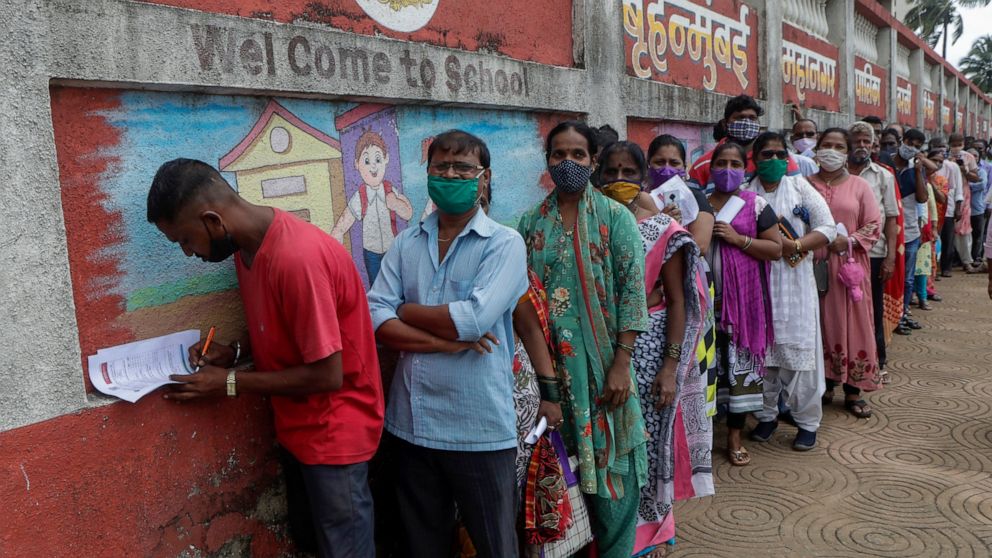 WASHINGTON — The Biden administration is applauding the efforts of private employers, state governments and universities to require vaccination against COVID-19.
However, the federal government will not facilitate a registry of vaccinated people, which some experts say would greatly help verify individuals' claims to have gotten their shots.
Earlier in the briefing, Zients praised employers, colleges, hospital systems, and government entities requiring vaccine mandates.
"Clearly vaccination requirements are gaining momentum across the country," Zients said. "Employers have the power to help end the pandemic."
———
MORE ON THE PANDEMIC:
— Dr. Fauci: Booster shot recommended for weakened immune systems
— US Health & Human Services orders shots for it workers in patient care
— Russia reports record daily COVID-19 death toll at 808
— Study: Extra COVID shot helps protect transplant patients
———
— Find more AP coverage at https://apnews.com/hub/coronavirus-pandemic and https://apnews.com/hub/coronavirus-vaccine
———
HERE'S WHAT ELSE IS HAPPENING:
NEW YORK — Federal officials are poised to OK an additional dose of coronavirus vaccine for people with weakened immune systems, according to the head of the Centers for Disease Control and Prevention said Thursday.
Dr. Rochelle Walensky says the U.S. Food and Drug Administration is considering allowing another dose for cancer patients, organ transplants recipients and other conditions.
A CDC expert advisory committee is scheduled to discuss the matter Friday, "following FDA's decision," according to Walensky.
Growing evidence suggests a benefit of an additional dose of vaccine for vulnerable people who have already received the two recommended doses of the Pfizer and Moderna shots. The FDA is working with the two companies to allow third shots for those patients who are most vulnerable to COVID-19, she says.
She stressed a small proportion of people would be eligible for the extra doses — less than 3% of adults.
———
CHICAGO — Chicago health officials say they've found 203 cases of coronavirus connected to Lollapalooza, but aren't yet reporting any hospitalizations or deaths.
The four-day music festival, which started two weeks ago, drew about 385,000 people to the city's lakefront. Critics questioned holding an event with packed crowds during the pandemic.
But city officials have defended the decision, saying there were enough safety protocols in place. Festival goers had to show proof of vaccination or a negative COVID-19 test.
Department of Public Health Commissioner Dr. Allison Arwady says the number of cases wasn't a surprise or considered a "superspreader."
Among those who tested positive, city officials say 138 were Illinois residents from outside Chicago, 58 were from the city and seven were from out of state. Nearly 80% of those who tested positive were under 30, and about 62% were white, Arwady says.
———
LONDON — Britain reported 33,074 new coronavirus cases on Thursday, the highest daily rate since July 23.
The numbers are fueled by the delta variant, which is dominant throughout the U.K. Health experts say Britain needs to achieve a much higher level of vaccination if it hopes to control the disease. About 60% of the U.K. population has been fully vaccinated.
Cases have risen to an average of around 25,000 a day, more than 10 times higher than early May. The seven-day average for coronavirus-related hospital admissions is about eight times higher than in May and deaths are 15 times higher.
British scientists are warning the public not to be complacent, saying high levels of coronavirus infection in the community may lead to another spike in cases this fall.
———
JACKSON, Miss. — Mississippi reported its largest single-day total of new coronavirus cases at 4,412 on Thursday.
It far exceeded a record set only two days earlier, indicating more challenges in coming days for already-strained hospitals.
The state Health Department reported 3,488 cases in the state on Tuesday. The numbers Wednesday also exceeded 3,000. The state's population is just under 3 million.
Dr. Alan Jones, associate vice chancellor for clinical affairs at the University of Mississippi Medical Center, says the rapid increase in cases is putting stress on the state hospital system, with few intensive care unit beds available in Mississippi.
———
ST. PAUL, Minn. — Minnesota has reached the milestone of vaccinating 70% of its population age 16 and older with at least one dose against GOVID-19.
Gov. Tim Walz's office cited data from the CDC showing Minnesota currently leads the Midwest in the percentage of the overall population who have completed their vaccination series at 54.4%.
The office credited a recent rise in vaccination rates amid concerns over the highly contagious delta variant of the coronavirus, and the $100 reward for people who get their first shot before Aug. 15. The number of first doses administered per week is up after bottoming out a month ago. New vaccinations peaked in April in Minnesota.
On Wednesday, Walz announced state agency employees must get vaccinated by Sept. 8 or undergo weekly testing before they can return to the office.
———
LAGOS, Nigeria — Nigeria received 177,600 doses of the Johnson & Johnson COVID-19 vaccine as it looks to vaccinate more citizens.
The doses are part of nearly 30 million doses the country procured from the AFREXIM Bank through the African Union.
The National Primary Healthcare Development Agency, which coordinates Nigeria's vaccination efforts, says the J&J vaccine will be administered to those for whom obtaining a two-dose vaccine could prove difficult. Those include the elderly and those in hard-to-reach areas rural areas.
The new supplies arrived four days ahead of the planned rollout of the second batch of COVID-19 vaccines in Nigeria, including the 4 million received from the U.S. through the COVAX facility.
On Wednesday, the nation logged 790 confirmed infections, the highest since February, according to data from the Nigeria Center for Disease Control. Less than 2% of the country's 200 million citizens have been vaccinated against the coronavirus, according to official data.
———
WASHINGTON — The federal Department of Health and Human Services is requiring employees who provide care for patients to get their COVID-19 shots.
The order from HHS Secretary Xavier Becerra will affect more than 25,000 clinicians, researchers, contractors, trainees and volunteers with the National Institutes of Health, the Indian Health Service, and the U.S. Public Health Service Commissioned Corps.
It applies to employees who regularly interact with patients, or whose duties could put them in contact with patients. Government agencies and private companies are issuing vaccine mandates as the aggressive delta variant sweeps across the country.
The decision by HHS follows the Veterans Affairs order last month that its health care workers get vaccinated, and the recent announcement by Defense Secretary Lloyd Austin that U.S. service members will be required to get their COVID-19 shots to maintain military readiness.
———
TOKYO — A key medical adviser to Japan's prime minister says surging infections in the Tokyo area are severely affecting medical systems, and he is urging the government to take stricter measures to drastically reduce people's activity.
The Japanese capital has been reporting record numbers of new infections, with daily cases tripling during the Olympics that ended Sunday. Tokyo on Thursday logged 4,989 new cases, and hospital beds are rapidly filling up.
Nearly 20,000 people with milder symptoms are now isolating at home to make room for those who have or are falling seriously ill.
Japan's seven-day rolling average of new cases stands at 11.2 per 100,000 people, compared to 2.8 in India, 37 in the United States and 41 in Britain, according to Johns Hopkins University.
———
ROME — Some 65% of those in Italy 12 years or older and eligible for the COVID-19 vaccine are fully vaccinated and another 5% have received a first dose.
According to government figures published on Thursday, out of Italy's population of 60 million, 35 million persons are now fully vaccinated. Italy has one of the world's oldest populations. More than 91% of those older than 80 and more than 86% of those in their 70s – an age range that included many of Italy's 128,000 dead in the pandemic — are now fully vaccinated.
The government's vaccination czar, army Gen. Francesco Paolo Figliuolo, says the national campaign is focusing now in particular on young people, including university students, before schools reopen after summer break.
———
BERLIN — German authorities say more than 8,500 people need to get vaccinated again after investigations have shown that a nurse in northern Germany may have vaccinated people with saline solution instead of COVID-19 vaccines.
Public Television ARD reported Thursday that the nurse, whose name was not given for privacy reasons, was initially thought to have given saline instead of vaccines in at least six cases in the northern town of Friesland in April. Investigators say she initially told them that a vial with the vaccine had broken and out of fear of being fired she filled the syringes with saline solution instead.
However, this week local authorities said it could not be excluded that the woman had allegedly vaccinated people with saline solution before. Therefore, they contacted 8,557 people who were vaccinated between March 5 to April 20 to get another shot.
A lawyer for the nurse rejected the allegations, ARD says. The broadcaster also reported police had found anti-vaccination posts by the suspect online.
———
O'FALLON, Mo. — The death toll from COVID-19 in Missouri has topped 10,000, according to the state health department.
The dashboard showed 20 new deaths, bringing the total to 10,002 since the onset of the pandemic. Nationally, more than 615,000 Americans have died from the coronavirus.
Deaths have been rising in recent weeks due to the delta variant, and it's been especially troubling in southwestern Missouri. The Springfield-Greene County Health Department says 82 people died in Greene County between July 1 and Aug. 10.
New cases and hospitalizations are at their worst levels since the winter.
There were 2,675 new cases and a seven-day average of 2,013 confirmed cases. Hospitalizations rose by 68 to 2,268, the highest level since January. Intensive care unit space in Missouri hospitals is at 17%, and 14% in the St. Louis area.
———
WASHINGTON — Dr. Anthony Fauci says an additional COVID-19 booster shot will be recommended for previously vaccinated people with weakened immune systems.
He told NBC's "Today" show on Thursday that he expects the booster recommendation to come "imminently."
People have compromised immune systems for a variety of reasons, including organ transplants, cancer or other conditions. Any authorization for an additional booster shot would come from the Federal Drug Administration.
Fauci says for other vaccinated groups, such as the elderly, data is being collected to determine if or when their protection goes "below a critical level" and "that's when you're going to be hearing about the implementation of boosters" for others.
The nation's top infectious disease expert says "at this moment, other than the immune compromised, we're not going to be giving boosters."
Fauci says "inevitably there will be a time when we'll have to get boosts" because "no vaccine, at least not within this category, is going to have an indefinite amount of protection."
———
LONDON — Officials say the British economy grew by 4.8% in the second quarter of 2021 as lockdown restrictions were lifted.
The Office for National Statistics says the British economy grew by 1% in June alone, the fifth straight month of growth. The lifting of pandemic restrictions following the rapid rollout of vaccines in the U.K. has buoyed growth in recent months.
All legal limits on contact, such as social distancing rules and caps on the number of people allowed to gather, were lifted in July. Economists expect further growth in the months to come, although confirmed virus cases have risen from greater social contact.
One uncertainty is how the economy will adjust with the ending of the furlough program. It was introduced at the start of the pandemic last March to ensure unemployment didn't rise substantially when lockdown restrictions were imposed. The government paid 80% of the salaries of those workers unable to work because of lockdown measures.
The program, which stops at the end of September, helped support more than 11 million people. Now the number is down below the 2 million mark as many sectors have reopened, notably hospitality. It kept a lid on unemployment, which remains relatively low at below 5%.
———
MOSCOW — Daily COVID-19 deaths in Russia have hit a record of 808, following a sharp surge of coronavirus infections last month.
Russian authorities reported the previous record of 799 four times over the past four weeks, including on Tuesday.
Russia faced a surge of infections last month that officials have blamed on the spread of the delta variant. New confirmed cases soared from around 9,000 a day in early June to 25,000 a day in mid-July.
The daily case numbers have since decreased slightly to about 21,000 a day this week, but the daily death toll has remained high.
Officials are working to boost vaccine uptake, which has remained lower in Russia than in many Western countries. Last Friday, some 39 million Russians — or 26.7% of the 146-million population — had received at least one dose. More than 30 million, or 20%, are fully vaccinated.
Russia's state coronavirus task force has reported over 6.5 million confirmed coronavirus cases in the pandemic and 168,049 deaths. However, reports by Russia's state statistical service Rosstat that look at coronavirus-linked deaths retroactively have revealed a much higher number.
———
CANBERRA, Australia — Australia's capital will go into lockdown for a week from Thursday after a single case of COVID-19 was detected and the virus was found in wastewater.
Canberra joins Sydney, Melbourne and several cities in New South Wales state that are locked down due to the delta variant.
Canberra residents can only leave home for essential reasons from 5 p.m. on Thursday, general retail stores will be closed and hospitality venues will only to able to sell takeout, an Australian Capital Territory government statement said. Schools will be open to students who cannot stay at home.
The infection is the first local acquired case in the city of 460,000 since July 10 last year. A Canberra resident, a man in his 20s, had been infectious in Canberra since Sunday and tested positive on Thursday, Australian Capital Territory Chief Health Officer Kerryn Coleman said.
The lockdown starts on the final day of a two-week sitting of the Federal Parliament.
———
OTTAWA — Canada's immigration minister says fully vaccinated Canadians will soon be able to get a government document that will certify their COVID-19 vaccine history for the purpose of international travel.
The document, expected to be ready by the fall, will be digital, with an option for those who cannot or do not want a digital certificate. Immigration Minister Marco Mendicino says it will include data on the type of vaccines received, the dates and the location.
Intergovernmental Affairs Minister Dominic LeBlanc says the program has to be done in cooperation with provinces and territories because they have the data that is needed. He says if provinces want to use the same passport within their province that could be an option.
Quebec is introducing a provincial passport next month that will be required for people who want to attend public events, go to the gym or frequent a restaurant or bar.
———