Model, personal trainer and mother-of-two Tahlia Giumelli, 28, takes us through her pregnancy fitness routine, sharing some tips and tricks for other mums-to-be.
When my second daughter, Elodie, was born in November, I was not prepared at all – I was 36 weeks pregnant. But as unprepared as I was for her arrival, I'm thankful that I took the time to prepare my body for birth.
I didn't exercise much in my first pregnancy and found that after I gave birth it was really hard to get back into the swing of things and to make my body feel strong.
So, my priority this time around was to maintain some sort of strength and minimise pain.
Below are a few things to keep in mind when it comes to staying active while pregnant.
Find something that works for you
Everybody's different and every pregnancy will be so.
I spent a lot of time during my pregnancy doing Pilates. I had a condition called symphysis pubis dysfunction, where the pubic joint becomes unstable causing muscle spasms and shooting pains.
Honestly, I think Pilates is what helped me get through, otherwise I would have been bed-bound with it because it was quite painful.
Work with qualified professionals
I did Pilates with my physio, who is qualified in treating pregnant women.
Finding someone who specialises in pregnancy is really important because your body's changing so much, you need someone who understands that and can properly advise on what to do and what not to do.
Listen to your body
It's so important to be in tune with your body.
At first I was like, "No, I can do stuff" but pretty soon I was like, "Wow, I definitely can't do the things I used to be able to do."
I couldn't do reverse lunges, so I had to do static lunges. I couldn't be on one leg, I had to do everything on two legs.
I know people who are the complete opposite of me and were lifting and running, whereas I had to do really minimal movements.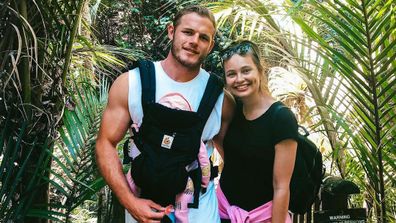 Get the kids involved
Trying to work out while pregnant is hard enough, but if you already have children it's even harder.
When I first had Sophie, now 16 months, if she was really unsettled, instead of actually using a dumbbell or a kettlebell, I would hold her because she was the same weight. Anything to get a workout in but also calm the baby down.
I'd even wear the baby carrier and go for a big walk, which was a workout in itself because she wasn't a light baby. So, I'd have like six or seven kilos on my front, going for a walk from Bondi to Bronte.
Be kind to yourself
You're not going to bounce back straightaway and that's okay. Being pregnant and giving birth is one of the hardest workouts you'll ever do; you need to rehabilitate and get your form back afterwards.
Don't worry about rushing back into it. Take your time, enjoy your baby, enjoy your home and being with them and it will all come together.
And don't be so hard on yourself if you're not where you thought you'd be after giving birth.
Last time I thought it had to be done straight away. This time around I spent more time rehabilitating my core to help my lower back and it's been a slow process.
I didn't go back to any kind of workout until I had a physio check with a woman's physio. That was really important for me to make sure my pelvic floor was okay, and my ab separation, and to make sure what I was then going to do in terms of a workout was safe for my body.
I went straight back to Pilates first, from about seven/eight weeks postpartum. And it wasn't like I jumped straight into what I did before I was pregnant, I used it as a rehabilitation to work on my core strength and to gain everything back that I lost. I had such a bad back and it was from such a weak core. So just building up my strength, then it was about 10 weeks til I was back in the gym with a personal trainer.
I know it's going to take a couple of months to feel like I did before. So, it takes time and patience. There's no rush to do anything. Relax.
Make sure the whole family is protected when keeping active this summer; UV rays from the sun can cause skin ageing and skin burning! Thanks to its lightweight and dry touch non-sticky feel, Neutrogena's Ultra Sheer range is the most unsunscreeny sunscreen ever. Shop the range at https://www.chemistwarehouse.com.au/search?searchtext=neutrogena%20sunscreen&fh=1
ALWAYS READ THE LABEL. FOLLOW THE DIRECTIONS FOR USE. PROLONGED HIGH-RISK SUN EXPOSURE SHOULD BE AVOIDED. FREQUENT RE-APPLICATION IS REQUIRED FOR EFFECTIVE SUN PROTECTION.